Vibrant Exhaust Header Collector for Universal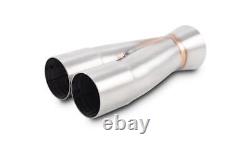 Vibrant Exhaust Header Collector for Universal. Exhaust > Exhaust Manifolds > Exhaust Header Collector. 2-1 Merge Collector, 1.875 Inlet I. X 2.5 Outlet O. Vibrant Performance was established in 1997 to design and produce Exhaust and Induction components for the Sport Compact performance market, which, at the time, was a small but rapidly emerging segment of the high performance aftermarket. Since that time, this market has exploded, becoming a global phenomenon in the process and we are proud to have been part of this growth in North America and around the world. Over the years, our product offering has become substantially more diversified and we now proudly cater to many other segments of the performance aftermarket. If you are looking to improve the performance of your vehicle, whether it be a Race Car, a Hot Rod, a Muscle Car, a Sport Compact, a Truck or even a Motorcycle, Vibrant has the component and full assemblies that you want and need in order to help you enjoy your ride to the fullest. Our mission is to continuously identify, develop and produce the type of high quality products that are in demand by leading industry professionals and their customers.
Our product development and marketing teams are 100% committed to the continuous evolution of our product line in order to stay ahead of the ever-changing needs of the industry and the customers we serve. In addition to our Vibrant Performance branded products, we have been awarded numerous contracts to supply a variety of products and services, on a private label basis, to some of the world's leading OEM and aftermarket companies. Many of the industry's leading manufacturers look to Vibrant Performance for innovative products and solutions and you should too! Sport Compact or Domestic, Street Car or Race Car, Bolt-On or Full Custom. Vibrant Performance has got you covered!