Freedom Performance True Dual Header Exhaust System with Sharktails IN00036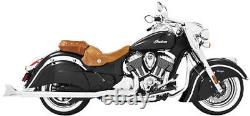 Freedom Performance True Dual Headers w/2.5 in. This item fits the following models.
Triple stepped headers 1 3/4 inch to 1 7/8 inch to 2 inch for anti-reversion, full range torque and horsepower. Exclusive 2 1/2 inch O. Full-length, one piece 220° heavy duty 16 gauge heat shields. Removable performance baffles or optional quiet baffles. O2 ports and plugs provided for early models. Complete with mounting hardware and brackets. Large 2 1/2 inch 16 gauge heavy-duty 220° blue proof shields. Includes the following: 1 Chrome steel front head pipe W/heat shield 1 Chrome steel rear head pipe W/heat shield 1 Chrome steel crossover pipe W/heat shield 2 Chrome steel mufflers W/heat shields (1 left and 1 right) 2 Chrome steel shark tail muffler tips 1 Chrome steel mounting bracket 6 #28 Hose clamps 9 # 24 Hose clamps 2 Chrome aluminum spacers 1 Exhaust clamp 2 10mm-1.5 X 45mm Socket cap head bolts 1 5/16"-18 X 5/8" Serrated flange hex head bolt 1 3/8"-16 x 3/4" Carriage bolt 1 3/8"-16 Flange hex nut 1 5/16"-18 Flange hex nut 1 8mm-1.25 Serrated flange nut Instructions The Air Resources Board (ARB) does not permit the use of aftermarket emission-related parts that alter the air/fuel ratio of an emission-controlled vehicle.